We are a company that has a reputation for employing the greatest painters and decorators Darlington has. No matter how small or big a job is, we can cater for every requirement. Various contractors, private establishments, hotels, and resorts ask us for help. We also assist various residential clients. As a result, we have a huge amount of experience in the field.
If this is your first time designing a nursery, you may need assistance with picking the colours. Luckily, we have several tips you can use to go from inspiration to paint selection. You will then have the means to pull a palette together that everyone will love.
Think about the room
Start by considering the actual room that you are going to work on. Your child's room might be large or small. It could do with some brightening or it may benefit from natural light. When selecting colours, it is essential that you take your cues from the current space. You might be a fan of deep, rich shades. However, dark hues soak up light and are easily capable of overwhelming compact rooms. With light colours though, you can make everything seem brighter and bigger.
Bold accents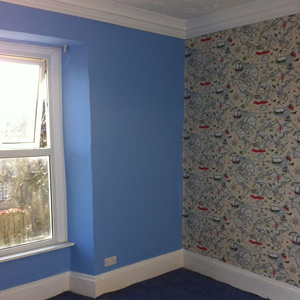 You can go bold with accents too. You may love bold colours but lack the necessary space. If so, think about selecting an accent colour that is daring and fun. Even with a tiny room, a smart accent wall in a dim colour can introduce depth. This will make the space seem massive. You could choose to bring in a bold hue by favouring accessories with bright colours. This includes throw pillows and curtains.
At Davidsons Decorators, we provide a full range of high quality services. You also don't need to pay premium prices for our help. Trust us if you are looking for professionals who will get things done; we are the painters and decorators Darlington clients can always rely on.
Anyone who wishes to find out more is free to contact us or can browse our website.